---
Our Team
Dr Greg DePamphilis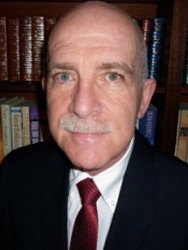 It is a blessing to love the work you do. After 32 years as a chiropractor and 28 years as an acupuncturist there is still a buzz in seeing how people can improve their health.
In the clinic you will always be given the time needed without being rushed.
My exam involves going through a series of orthopaedic, neurological and muscle testing procedures to help determine what may be going on.
X-rays may also be used to arrive at a diagnosis.
The clinic has state of the art treatment tables. I use a variety of chiropractic techniques as well as laser therapy and magnetic pulse therapy when appropriate for your treatment.
Chiropractic may be effective in treating musculo-skeletal and neurological conditions like headaches, neck and back pain, sciatica and disc bulge problems as well as sports injuries to the shoulder,elbow, wrist, hip, knee and ankle/foot and work injuries.
Acupuncture may be used for Management of :
pain, fatigue and nausea related to many chronic diseases
cervico-genic headaches, neck and back pain
Muscle tension related to stress
Pregnancy related musculoskeletal pains, nausea and vomiting
I have worked from the same clinic for the past 25 years and have had the privilege to treat many thousands of families, some three and four generations.
The body is a miraculous self healing organism that just needs the right type of encouragement from time to time to get the job done.
Here's to a healthier you.
Dr Greg DePamphilis
Robert Navacchi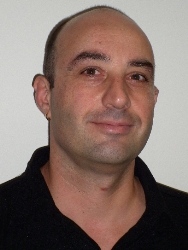 Hello, my name is Robert and I am a Remedial Massage Therapist here at West Lakes Chiropractic Clinic.
I started studying massage early in 2009 and became involved within the professional sporting arena early in my career. I currently work with AFL and Cricket players as well as Cycling.
Australia treating their Professional athletes prior to world events including the Olympics. Most recently I've had the pleasure of treating some of the Pro-Tour Tennis players.
I am currently studying a Bachelor of Health Science (Acupuncture) at The Endeavour College of Natural Medicine and continue to expand my knowledge so I can give my best to you when you need it.
I am very excited about working with the team here and look forward to contributing as much as they do in helping you.
Kayte Muir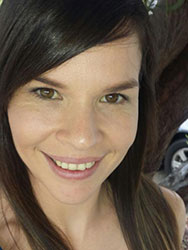 Could your skin do with a little love?
Kayte Muir, our cosmetic consultant is offering customised Facial Treatments at the clinic, appointments are essential.
A facial not only allows you to relax and de-stress, it is one of the best ways to take care of your skin. Facials increase circulation which helps facilitate the renewal of skin cells. It allows for deeper cleansing and exfoliation as well as detoxification, helping to bring clarity to your skin. As a result your skin will be left nourished and hydrated and best of all, it helps slow down the ageing process!
Kayte will completely personalise your treatment using Arbonne's Swiss Formulated Pure, Safe and Beneficial Skincare, so whether you want something for relaxation, deep cleansing or anti-ageing she has you covered! Your skin will feel amazing!
Wendy Tran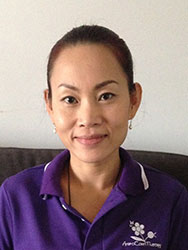 Wendy is qualified in Aromatherapy and Reflexology and is finishing her studies in Remedial Massage.
She currently provides aromatherapy, reflexology and pregnancy massage here in the clinic.
Aromatherapy massage uses essential oils, which are extracted from flowers and plants and promote physical and emotional wellbeing.
Reflexology is a therapy that applies pressure onto the reflex points of feet, hands and ears to promote balance in physical, mental, emotional and energetic levels of the body.
Judi DePamphilis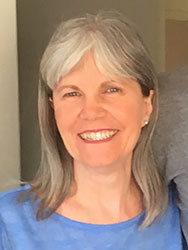 As a Health/Life Coach my role is to help people in their journey towards improved health and well-being.
There will be no deprivation, dieting or regimented exercise programs.
What there will be, is Motivation, Support & Accountability and that means I will be guiding you every step of the way towards your desired goal.
Who wouldn't want to be the best they can be?
To have the life they want and deserve?
Head on over to my website judidepamphilis.com and click on SERVICES to book your complimentary Initial Transformation Discovery session and start your journey to good health and well-being.
You can choose where you would like to have your sessions, either at West Lakes Chiropractic Clinic , via phone or a location of your choosing.
Sending love and happiness your way.
Judi
Lisa White
Is someone you know struggling with over using:
Alcohol
Recreational drug use
Gambling
Sex and Love addiction?
Help is available to support the individual, partner and family members and recovery is possible.
Using evidence based and the latest therapeutic approaches.
Can Optimism Make a Difference in Your Life?
Do you have a rosy outlook and see the glass as half-full rather than half-empty? If so, your good attitude may have even more benefits than you think. A growing number of scientific studies suggest optimistic people tend to live longer and have better physical and mental health than pessimistic people. Changing from a pessimistic mindset to an optimistic one isn't easy. Start with these tips:
Think positive thoughts about yourself and others.
Stop comparing yourself to others in a competitive way. Each person has unique and special talents that are to be valued.
Try to find the good in every situation, even at difficult moments.
When facing a challenge, focus on achieving a positive outcome, rather than expecting defeat.
If you are finding it hard to create optimism support is available.
Everyone experiences stress and its effects
Short-term effects of stress include headaches, shallow breathing, trouble sleeping, anxiety, and upset stomach. Long-term chronic stress can increase the risk for heart disease, back pain, depression, persistent muscle aches and pains, and a weak immune system. Chronic stress can affect your emotions and behaviour by making you irritable, impatient, less enthusiastic about your job, and even depressed.
Change is possible, support is available and you can learn to manage and reduce stress.
Mindfulness and Meditation
Worry, anxiety, and stress can be more than distractions. Constantly replaying in your mind daily problems and fears can affect your mental and physical health.
By controlling your attention as you meditate, you begin to feel more relaxed and at peace. And this peacefulness usually lasts far beyond the meditation itself. So, when stress appears hours later, you have the means to redirect it.
Learn Mindfulness and Meditation to increase the quality of your life
Lisa is an accredited Mindfulness Trainer
Care Coordination
Assistance to help navigate care planning for medical rehabilitation or aged care services. Expert advice for case planning and to identify the most appropriate supports, programs and services to increase wellbeing.
Provide care in an efficient and effective manner for each patient at any given time in illness and/or wellness
Establish and guide patient and family expectations
Manage care proactively in all settings and severity of illness, matching appropriate resources to the patient's condition
Optimize resource utilization – family resources, community resources, provider resources
Enable patients and their families to become active, informed partners in the care and health maintenance
Improve the quality of your Relationship
The quality of our relationships and interactions with others can have a significant bearing on the quality of our lives and feeling of wellbeing. Increasing your understanding of yourself and others to help you to learn grow and feel better about yourselves and others